ONE PLACE REMAINING
This year long course which will run every Tuesday from 26th  Sep 2017 to 3rd July 2018, 10am – 5pm. Annual Fee £2200 or payment per term £833.
The Bigger Picture is post graduate painting and mixed media programme designed and led by Bob and Roberta Smith, the course is concerned with thinking about painting in a radically new way and will look at painting as an act undertaken by the artist that has consequences. We will look both at the process of painting, surface, colour, form, composition and the subject of painting, the personal and political.
The class will have no more than thirteen students, an unusually low number for any course helping to ensure a good degree of tutor time and a close community of students, and will be taught by Bob and other professional artists. Bob will teach a minimum of once a month on the course.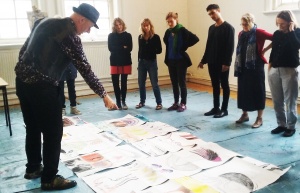 The annual fee is £2200 or via The ESOP payment plan  at £833 per term. This fee includes basic art materials and an end of year exhibition in the beautiful contemporary gallery space the Mile End Art Pavilion. The course will be divided in three terms of 11 weeks inclusive of a half term week.
During the course we ask the fundamental question, 'What kind of artist are you?' but we critically ask another difficult question, 'who on earth would be interested in my paintings?' By addressing this second question we help to engage you in conversations which will root your practice in a community of ideas, and at the end of the academic year we will have a student show. The 2016-17 student show was held at the Mile End Pavilion from the 22 -28 of June.
APPLICATION PROCESS:
Please sent your application to applications@theesop.com
To Apply:
Please send 6 images and a short statement (600 words or less) stating why you would like to do the course and outlining your previous artistic experience.  We will consider all applications and qualifying applicants will be informed as soon as their applications are accepted. Apply now to avoid disappointment. Admissions are based on merit, once eligibility is met acceptance will be on a first come first serve basis.
PLEASE NOTE – Although this course is aimed at postgraduate level, it is not a requirement for you to have a degree in either Fine Art or another subject. What we are looking for is evidence of commitment and ability. Remember  to please include your telephone contact in your application.
Click here for application terms and conditions.