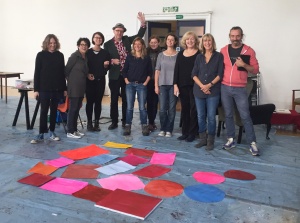 Students of the course The Bigger Picture, which is designed and taught by Bob and Roberta Smith RA, hold their End of Year Student show 'The Image Obsession Question'  exhibiting their work made over the academic year 2016-17.
The Bigger Picture  is a  postgraduate painting and mixed media programme concerned with thinking about painting in a radically new way. The course looks at painting as an act undertaken by the artist that has consequences.
Through the academic year we look at the process of painting, surface, colour, form, composition and the subject of painting, the personal and political.
This academic year 2016-17, ending this July, the class met weekly, making and presenting their work, discussing and receiving feedback/critique with the aim of answering the fundamental question, who am I as an artist? and, why should anyone be interested in my art? This exhibition The Image Obsession Question showcases this work.
Please join us at our Opening Night on Thursday 22nd June 2017 from 6:00pm to 9:00pm – All are welcome; come see the artwork, meet the artists and tutor, and partake of some refreshments!
Venue: 
The Art Pavilion Mile End Park
Clinton Road, E3 4QY
The Art Pavilion is an amazing gallery space in Mile End Park with a stunning glass frontage. Build with conservation in mind, the pavilion blends into the park's landscape; built with an earthen roof that gradually swoops downwards to sit along side a beautiful man-made pond with the Regent canal in the background. This gallery space  resonates with our love of both art and conservation. Our general student exhibition will also take place here in July 13-17 (private view 12th July)
Following the opening night The Image Obsession Question exhibition is open to all on the following days and times
June 23 – 26   10:00am to 6.30pm
June 27          10:00am to 5:00pm
Artists:
Andy Gashe, Annette Kobak, Clare Barton-Harvey, Eve Lear (Darsavini), Frances Basham, Haroun Hayward, Helen Sophia Burgess, Joanne Sellam, Johanna Melvin, Marilyn Kernoff, Natalja Dembek and Vandika Thomson.
Below listen to Bob and Roberta Smith OBE RA introduce the exhibition.
Click here for application process and details on the Bigger Picture 2017-18